Commercial Recycling
Recycling is now easier than ever.
The blue 3-cubic yard bin is the place for ALL of your recyclables. There's no need to separate paper from plastic, glass, or metal. That is, your recyclables can be "commingled." Place everything recyclable into the blue bin.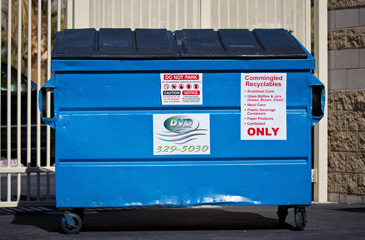 The Recycling Process
Your commingled recyclables with collected with clean-burning, CNG-powered vehicles.
The recyclables are transferred to a Materials Recovery Facility where they are separated by commodity.
The commodities are shipped off to be processed into new products.
What are the Recycling Requirements for Businesses and Multi-Family Residential Dwellings?
Assembly Bill No. 341 (AB341) requires a "business… that generates more than 4 cubic yards of commercial solid waste per week or is a multi-family residential dwelling of 5 units or more, to arrange for recycling services" A standard dumpster is 3 cubic yards, so if it's emptied more than once per week, this new law applies to your business.
It's important to emphasize that multi-family complexes of 5 or more units MUST recycle. Furthermore, tenants are required to recycle if the owner of the business or multi-family housing complex has asked its tenants to do so.
Commercial Organics and Food Recycling