Residential Waste Services
Single Family Residences are provided with 1 waste collection per week. Waste should be deposited into the 96-gallon gray cart and should not exceed the maximum weight of 75 lbs. NOTE: Some county customers have 32-gallon cans in which case the maxium weight should not exceed 50 lbs. each. Please roll your cart or cans to the curb by 6:00 a.m. on your collection day.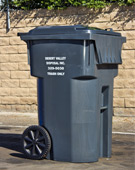 Pickup Schedule
Call (760) 329-5030 or (760) 327-1351
to determine your collection day.

Holiday Schedule
Check pick-up schedule for holidays in the upcoming year.
Drop-off Service
You have the option to drop off your household recyclables, eWaste, and appliances to the Desert Valley Disposal Services office at:

4690 East Mesquite Ave.
Palm Springs, CA