Recycling Services
When does Recycling Collection Take Place?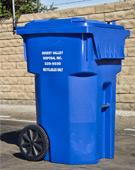 Residential recycling collection occurs on the same day as your trash collection. Use the 96-gallon BLUE wheeled cart for your mixed recyclables.

You don't need to separate paper from plastic, glass from metal, etc. Just place everything recyclable (including cardboard) into the blue cart.
On collection day, roll your cart to the pavement edge with the handle facing away from the street. Please keep the container at least 4 feet away from cars, light poles and mail boxes.
We collect your commingled recyclables with clean-burning CNG-powered vehicles and transport the recyclables to a Materials Recovery Facility where they are separated and then are shipped off to be processed into new products.

Mixed glass, aluminum and plastic containers can be mixed into one container


All cardboard must be flattened and able to fit into the 96-gallon blue cart.


Large volumes of cardboard (new move-ins) are urged to call the office for a special pickup at NO additional charge.


Why the Need to Recycle?

Desert Hot Springs currently disposes approximately 10,000 tons of waste per year. In 1989, California State bill AB-939 mandated that all communities divert 50% of their waste by the year 2000. DVD has continued to meet that goal and continues to promote recycling.


What about Green Waste Recycling?

Please review our Green Waste information.